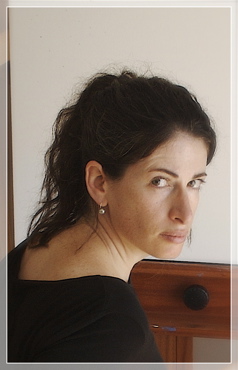 Kerry L. Ross is a Canadian painter born in Zimbabwe in 1972. She received a Bachelor of Fine Arts from the University of Calgary in 1995. The human form has been Kerry's greatest muse and her landscape for expressing issues such as contemporary isolation and social marginalization. Her paintings seek to reveal the human condition, the nature of being, and in turn open windows into a private self. They bring the viewer to emotional places both familiar and unfamiliar; where humanity with all its beautiful imperfection is absorbed into the oil and pigments of artistic expression.
Kerry paints in a representational manor using thin glazes of oil on stretched canvas. The detail inherent in representational portraiture bring a sense of prominence to people we may have missed or grown indifferent to. In addition, Kerry often employs an off-kilter composition that is devoid of extraneous detail. These aesthetic choices further emphasize the feeling of isolation and marginalization experienced by her subjects.
Kerry's paintings can be found in private and public collections across Canada. Her work is featured in the following publications: Incite 2, Color Passions: The Best in Mixed Media by Tonia Jenny and Talent Next Door - Kitchener Waterloo & Area Volume 2 by Craig Musselman. Her original paintings are on exhibit at solo shows and art festivals throughout Ontario.